ABOUT: News! Ι Join JTVAECU Ι Privacy/Security
What is a Credit Union?
A credit union is a non-profit organization of people like you whose primary purpose is to promote thrift through systematic saving, and to create a reasonable source of credit to members for provident purposes.
---
The Board of Directors
The Board is the policy-making body of the credit union ... it establishes interest rates on loans, declares dividends, controls investments, and performs such other duties as necessary to carry out the function of the credit union.
---
The Supervisory Committee
The supervisory committee is charged with monitoring the overall operation of the Credit Union. It ensures the highest degree of safety and soundness and guarantees that the best interest of the total membership is sustained.
About Our Credit Union
Johnsonville TVA Employees Credit Union, chartered in 1952 by the State of Tennessee, operates under state laws and supervision. The credit union is owned by the members and directed by an elected board. The members of your Board of Directors are elected by the membership to see that proper guidance and control are maintained according to the Tennessee Credit Union Laws.
---
Your Money is Insured!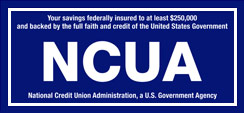 Credit unions, as with other financial institutions, are closely regulated for safety and soundness. The National Credit Union Administration (NCUA), an agency of the federal government, insures deposits of federal and state-chartered credit unions nationwide. Deposits are insured to at least $250,000.