LENDING: Consumer Loans Ι Mortgage Loans Ι Student Loans
VISA Credit Cards
To apply for a credit union VISA, just contact any of our offices for an application. If you currently have a credit card account somewhere else, you can easily pay off the balance with a cash advance from your Credit Union Visa.

When you have your VISA Charge Card with you, it's like having the credit union in your pocket.

Online Resources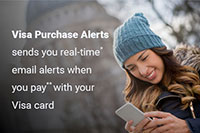 Get Alerted...
Get a text or email whenever you pay with your Visa card.
Enroll here...

Verify it...
See how easy it is to protect your online transactions.
Register Now