More Online Services:
Online Resources
Mobile App
Johnsonville TVA Employees Credit Union has a free app that is available in the app store and works with Apple and Android platforms and well as all tablet platforms. The mobile app provides links to current rates, branch locations and directions, Virtual Branch, and more. Push notifications associated with the app allow you to get important news messages from the credit union. The app can be downloaded for free in your phones app store.




*** Minimum length for logon IDs is 6 characters. If your Virtual Branch Logon ID is shorter than 6 Characters, add zeros to the beginning to reach 6 digits. ***



Online Resources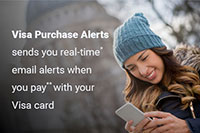 Get Alerted...
Get a text or email whenever you pay with your Visa card.
Enroll here...

Verify it...
See how easy it is to protect your online transactions.
Register Now