Services:
Member Accounts
More Services: Convenience Services Ι Security Alerts
Share Draft (Checking) Accounts
A Credit Union Share Draft Account is your alternative to regular checking. A very convenient feature of a share draft account is the carbonless copy you make each time you write a draft. It is always easy to determine to whom a draft (check) was written and the amount because you have a copy of each draft.

Every month you will receive a statement which shows the drafts that have cleared and all the deposits made to the account during the statement cycle.

The benefits of a credit union checking account are...
No minimum balance
No monthly maintenance fee
Your account earns dividends
The balance required to earn dividends is $500.
See Account Rates...
---
Variety of Certificate Programs
See Certificate Rates...
Savings Accounts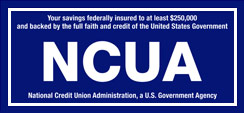 Share Accounts insured to $250,000.00
Credit unions, as with other financial institutions, are closely regulated for safety and soundness. The National Credit Union Administration (NCUA), an agency of the federal government, insures deposits of federal and state-chartered credit unions nationwide. Deposits are insured up to $250,000.
See Account Rates...
---
Individual Retirement Accounts (IRA)
See IRA Rates...

Account Resources

Reorder Checks...
Reorder checks online using your account information.
Reorder Checks Online

Security Alerts...
Protect your finances and your sensitive personal information! Stay alert to scams and frauds.
Security Alerts